No-bake desserts are a great option for those who want to enjoy a sweet treat without having to turn on the oven. Whether you're short on time, don't have access to an oven, or just want to keep your kitchen cool, no-bake desserts are the perfect solution. With just a few ingredients and minimal prep time, you can enjoy a delicious and satisfying dessert in no time.
1. No-Bake Cheesecake Recipe
This no-bake cheesecake is a simple and delicious dessert that's perfect for any occasion. Made with cream cheese, heavy cream, graham crackers, and a touch of sugar and vanilla, this cheesecake is a creamy and decadent treat that's sure to satisfy any sweet tooth.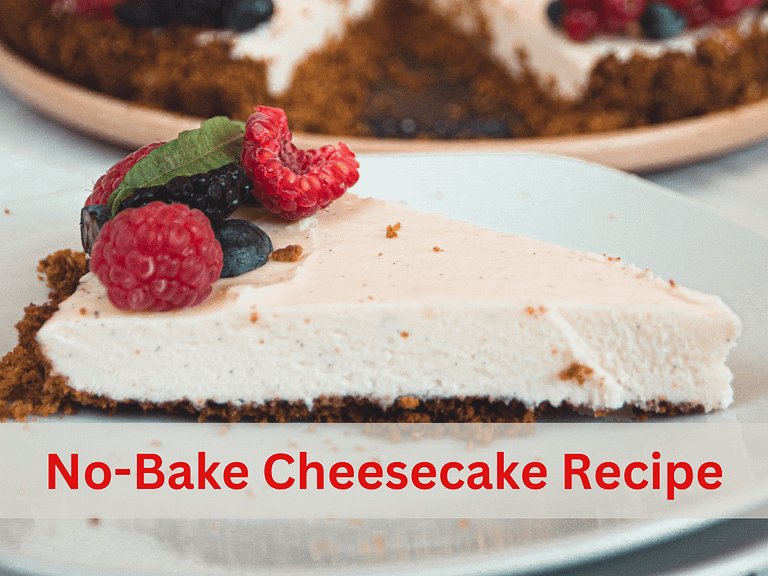 Ingredients:
1 1/2 cups graham cracker crumbs
1/2 cup sugar
1/2 cup melted unsalted butter
4 (8 oz) packages cream cheese, softened
1 cup heavy whipping cream
1 teaspoon vanilla extract
1/2 cup powdered sugar
Fresh fruit, for topping (optional)
Directions:
In a bowl, mix the graham cracker crumbs, sugar, and melted butter. Press the mixture into the bottom of a 9-inch springform pan.
In a large mixing bowl, beat the cream cheese until smooth. Add the heavy whipping cream, vanilla extract, and powdered sugar. Beat until fully combined and the mixture has thickened.
Pour the mixture over the graham cracker crust and smooth the top. Cover and refrigerate for at least 4 hours or overnight.
Serve with fresh fruit on top, if desired.
Tips:
Make sure the cream cheese is at room temperature before starting the recipe, as this will help it to mix smoothly with the other ingredients.
For a lighter version, you can use reduced-fat cream cheese and substitute the heavy cream with whipped topping.
To add a twist to the classic recipe, you can mix in fresh fruit or a layer of fruit on top, or add in a drizzle of chocolate or caramel sauce.
If you don't have a 9-inch springform pan, you can use a regular 9-inch pie dish and press the crust mixture onto the bottom and up the sides of the dish.
2. No-Bake Chocolate Peanut Butter Oatmeal Cookies Recipe
These no-bake chocolate peanut butter oatmeal cookies are a quick and easy dessert that are sure to become a family favorite. With just a few ingredients and no baking required, these cookies are perfect for a sweet treat any time of day.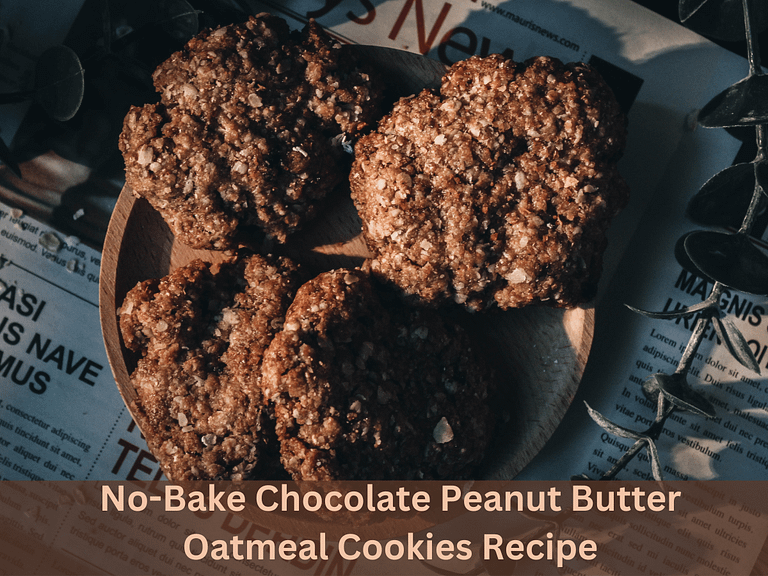 Ingredients:
1 cup creamy peanut butter
1/2 cup unsalted butter, softened
1/2 cup granulated sugar
1/2 cup brown sugar
2 teaspoons vanilla extract
2 cups quick-cooking oats
1 cup semisweet chocolate chips
Directions:
In a large mixing bowl, beat the peanut butter and butter together until smooth. Add the granulated sugar, brown sugar, and vanilla extract. Beat until fully combined.
Stir in the oats and chocolate chips.
Using a cookie scoop or spoon, drop the mixture onto a wax paper-lined baking sheet.
Refrigerate for at least 30 minutes, or until firm.
Serve and enjoy!
Tips:
For a healthier version, use natural peanut butter and swap out the semisweet chocolate chips for dark chocolate.
You can also add in other ingredients, such as chopped nuts or dried fruit, for extra flavor and texture.
To make these cookies gluten-free, use certified gluten-free oats.
Store the cookies in an airtight container in the refrigerator for up to 1 week.
Whether you prefer creamy no-bake cheesecake or chewy no-bake chocolate peanut butter oatmeal cookies, these desserts are sure to please. With their simple ingredients and easy preparation, they are perfect for any occasion. So next time you're in the mood for something sweet, try making one of these no-bake dessert and enjoy the delicious results without any fuss. You should also try this delicious Oreo Cheesecake Recipe at home.