Hibachi Fried Rice is a delicious, savory dish that is perfect for a weeknight dinner or a special occasion. It's a simple one-pot meal that comes together quickly and can be customized to your preferences. The basic recipe calls for rice, vegetables, and protein, all tossed in a flavorful sauce. You can also add seasonings, such as garlic, ginger, or sesame oil, for an extra punch of flavor. It is a great way to use up leftover rice and vegetables, and it's a great way to feed a crowd. Enjoy this tasty dish hot off the griddle or served cold as a side dish.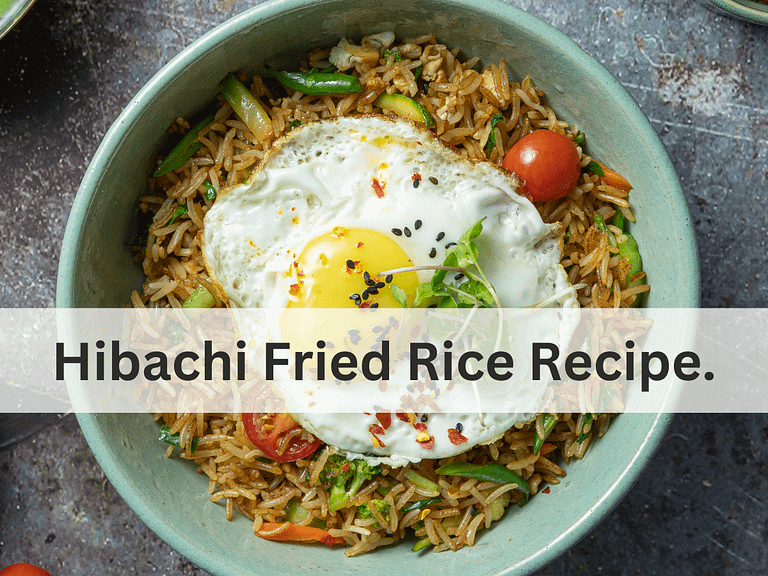 Ingredients of Hibachi Fried Rice Recipe
• 2 cups cooked rice, either white / brown
• 2 tablespoons sesame oil
• 2 tablespoons vegetable oil
• 2 cloves garlic, minced
• 2 eggs, lightly beaten
• 2 carrots, diced
• 1 onion, diced
• 1 cup frozen peas
• 2 tablespoons soy sauce
• 2 tablespoons miring
• 1 teaspoon of sugar
• 2 green onions, sliced
• Salt and pepper, to taste
• Sesame seeds, to garnish (optional)
The Recipe
1. Over medium heat, heat the vegetable oil in a large frying pan.
2. Add the cooked rice to the pan and spread it out evenly.
3. Pour the sesame oil over the rice and stir it in.
4. Add the frozen peas and carrots to the pan and stir.
5. Pour the soy sauce, sugar, and garlic powder over the rice and mix it in.
6. Crack the two eggs over the rice and stir them in.
7. Continue to stir and cook until the rice is golden-brown and the vegetables are cooked through.
8. Serve hot and enjoy!
Best Benefits of Hibachi Fried Rice Recipe
1. Easy to make: Hibachi fried rice recipes are relatively easy to make, and require minimal effort. The ingredients are simple, and the dish can be prepared quickly.
2. Versatile: Hibachi fried rice is an incredibly versatile dish that can be prepared in many different ways. It can be spiced up with a variety of herbs and spices or kept more simple with just a few ingredients.
3. Healthy: Hibachi fried rice is a great way to incorporate more vegetables into your diet, as vegetables are often the main ingredient in this dish. Soy is also rich in protein and fiber.
4. Economical: Hibachi fried rice is incredibly affordable, as it doesn't require expensive ingredients.
5. Delicious: Hibachi fried rice is a delicious dish that is sure to please everyone in the family. The combination of flavors makes it a great choice for dinner.
Conclusion
Hibachi fried rice recipes are a great way to enjoy a delicious and easy meal. They are simple to make and require very few ingredients, making them a great option for busy weeknights. With a few basic ingredients and some creativity, you can whip up a variety of dishes that will have your family and friends are sure to use quality ingredients and season your fried rice well to bring out the best flavor possible. Enjoy!
Looking for another delicious recipe to add to your dinner menu? Our Barbatos Boon Recipe is a must-try! This flavorful dish is packed with protein and veggies and is sure to satisfy your hunger. For a perfect pairing, try it with Hibachi Fried Rice recipe.