Are you in the mood for a delicious and easy Indian fried rice recipe? Look no further! This Indian recipe is a flavorful and simple way to make a meal that your entire family will love. Not only is it full of flavor, but it also comes together quickly and easily. All you need are a few basic ingredients and some basic cooking skills to make this tasty dish. So let's get started and learn how to make Indian fried rice!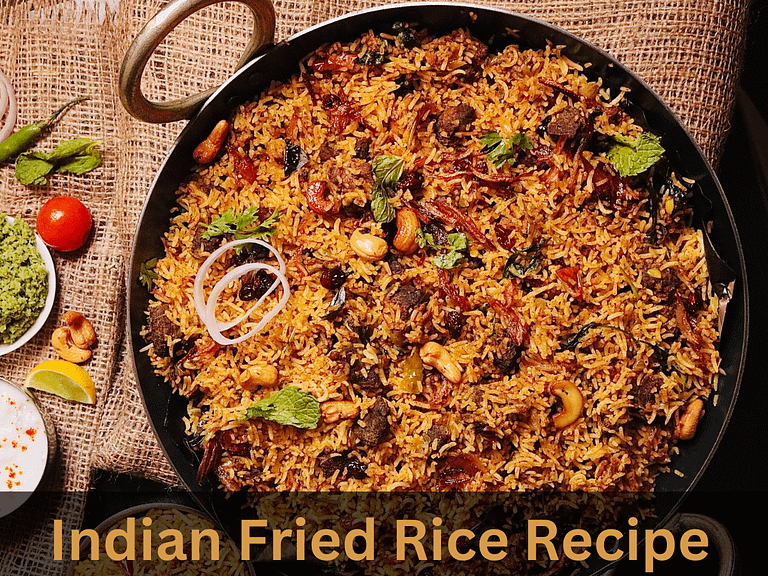 The Ingredients You Will Need
Making delicious Indian fried rice is an easy task that doesn't require a lot of ingredients. To make the recipe for Indian fried rice, you'll need the following ingredients:
– 2 cups of white / brown basmati rice
– 2 tablespoons of vegetable oil
– 1 large onion, chopped
– 2 cloves of garlic, minced
– 1 teaspoon of grated ginger
– 1/2 cup of frozen peas
– 1/2 cup of diced carrots
– 1/2 teaspoon of turmeric powder
– 1 teaspoon of ground cumin
– 1/2 teaspoon of ground coriander
– 1/4 teaspoon of chili powder
– Salt and pepper to taste
– 2 tablespoons of chopped fresh cilantro for garnish (optional)
Once you've gathered all the necessary ingredients for your Indian fried rice recipe, you're ready to begin cooking!
Step-by-Step Instructions
Making Indian fried rice is an easy and flavorful dish that is great for a weeknight dinner. Here's how to make it:
1. Start by preparing the rice as directed on the package.
2. While the rice is cooking, heat oil in a large pan over medium-high heat. Add the onions, garlic, and ginger, and sauté until the onions are softened about 5 minutes.
3. Add the spices – cumin, garam masala, turmeric, and cayenne pepper – and cook until fragrant, about 1 minute.
4. Add the vegetables – carrots, bell peppers, and peas – and cook until they are tender about 3-4 minutes.
5. Finally, add the cooked rice and stir to combine. Cook for an additional 2-3 minutes. Taste and adjust seasoning if needed.
6. Serve the Indian fried rice with your favorite toppings. Enjoy!
Tips and Tricks
Rice is a staple in many Indian-inspired dishes, and our How to Make Perfect Basmati Rice will help you achieve perfectly cooked rice every time. Once you've mastered the basics, try making Indian Fried Rice recipe for a delicious and flavorful meal. Here are some tips and tricks to help you perfect your recipe:
1. Choose your rice wisely. Basmati rice is best for making Indian Fried Rice since it has a light, fluffy texture when cooked. Make sure to rinse the rice several times to get rid of any excess starch before cooking.
2. Start with pre-cooked rice. Pre-cooking the rice and letting it cool before making your recipe for Indian Fried Rice will help ensure that the grains are not clumpy.
3. Use fresh ingredients. Fresh vegetables and spices are key for flavorful and fragrant fried rice. If using frozen vegetables, be sure to thaw them completely before adding them to the recipe.
4. Add aromatic spices. To bring out all of the amazing flavors in your Indian Fried Rice recipe, be sure to use spices such as cardamom, cinnamon, cumin, and turmeric. You can also add fresh herbs like cilantro or mint for an extra boost of flavor.
5. Use oil with high smoking points. Vegetables, canola, or peanut oil are all great choices for making fried rice as they have high smoking points and don't impart any flavor to the dish.
6. Don't overcook the vegetables. Be sure to add the vegetables to the pan just before the rice goes in so they don't get overcooked. This will help keep the vegetables crunchy and flavorful.
7. Let it rest before serving. Once you've finished cooking your Indian Fried Rice, let it sit for at least 5 minutes before serving. This will give the flavors time to meld and ensure that each grain is perfectly cooked.
Conclusion
This Indian fried rice recipe is an incredibly simple, yet delicious dish that can easily be made at home. The flavors of the spices combined with the crunch of the vegetables make for a flavorful and satisfying meal. Whether you are looking for a unique way to spruce up a weeknight dinner or just want something new to try, this recipe of Indian fried rice is definitely worth giving a try. With a few simple ingredients, you can create a tasty dish that the whole family will enjoy. If you want to try some healthy vegan recipe then you should check black eyed pea's recipe Indian style.