If you're looking for the perfect Mexican chicken salad recipe, look no further! This recipe for Mexican chicken salad is sure to tantalize your taste buds and leave you wanting more. With a combination of fresh ingredients and classic Mexican flavors, this recipe is sure to become a favorite in no time. Continue reading to learn how to prepare this delectable dinner.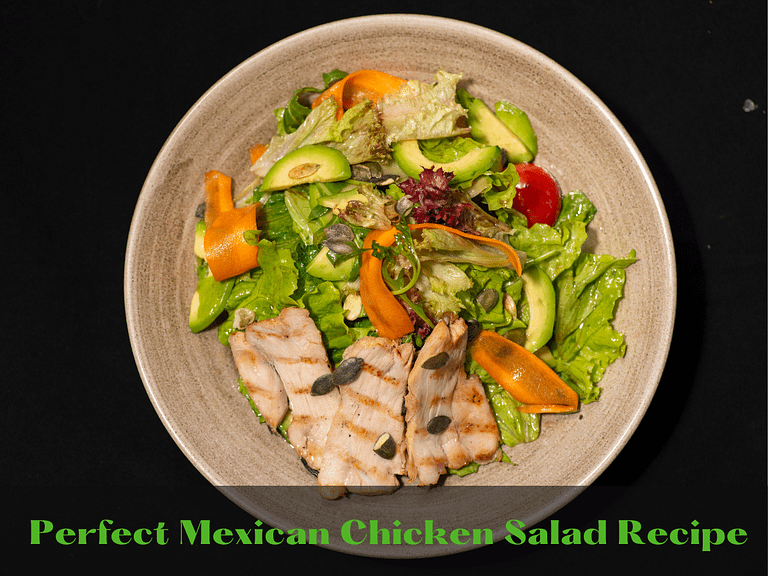 The ingredients you'll need
To make the perfect Mexican chicken salad recipe, you'll need the following:
– 4 boneless, skinless chicken breasts
– 2 tablespoons of olive oil
– 1 teaspoon of chili powder
– 1/2 teaspoon of garlic powder
– 1/2 teaspoon of ground cumin
– 1/4 teaspoon of smoked paprika
– 1/2 teaspoon of onion powder
– 1 teaspoon of salt
– 1/2 teaspoon of black pepper
– 2 fresh, shucked ears of sweet corn
– 1/2 cup of diced red onion
– 2 ripe avocados, diced
– 1/4 cup of crumbled feta cheese
– A quarter cup of freshly cut cilantro leaves
– Juice from 2 limes
– Two tablespoons extra virgin olive oil
– Salt and pepper to taste
– 6 cups of baby spinach leaves, for serving
Once you've gathered all of the ingredients for this Mexican chicken salad recipe, you're ready to start cooking!
Step-by-step instructions
Begin by combining the shredded chicken, bell peppers, red onion, cilantro, jalapeno, and garlic in a large bowl.
In a separate bowl, mix the olive oil, lime juice, chili powder, cumin, salt, and pepper.
Pour this mixture over the chicken and vegetables in the bowl and stir until everything is evenly coated.
At this point, you can either enjoy your Mexican chicken salad immediately or place it in the refrigerator for later. If you're planning to eat it later, make sure to let it sit in the fridge for at least 30 minutes to let the flavors meld together. Serve with tortilla chips or your favorite side dish and enjoy!
Tips for making the perfect Mexican chicken salad
1. Start by gathering all the ingredients for your recipe for Mexican chicken salad. This includes cooked chicken, shredded cheese, diced tomatoes, onions, cilantro, lime juice, and avocado.
2. Chop the chicken into small cubes and add it to a large bowl along with the other ingredients.
3. Combine all of the ingredients and season with salt and pepper to taste.
4. For extra flavor, you can also add in some cumin, chili powder, and garlic powder.
5. Mix everything until all the ingredients are evenly distributed throughout the Mexican chicken salad.
6. To finish, add a squeeze of fresh lime juice over the top of the salad and mix it well.
7. Serve the Mexican chicken salad cold or at room temperature. It's also delicious when served over tortilla chips or as a filling for tacos or burritos. Enjoy!
Conclusion
This recipe of Mexican chicken salad is a tasty, healthy meal that can be served as a main dish or a side dish. It's easy to make and requires minimal ingredients, making it an ideal weeknight dinner. To make the perfect Mexican chicken salad, make sure to use freshly cooked chicken and diced vegetables, and to give the salad an extra burst of flavor, don't forget to add some zesty lime juice! Enjoy your Mexican chicken salad!