Do you love Oreos? Do you love cheesecake? If so, then you'll love Oreo Cheesecake! Combining the delicious flavors of Oreos with creamy cheesecake, this decadent dessert is sure to please all cookies and cream fanatics. Whether you're looking for a simple but delicious recipe to make for a special occasion or just want to satisfy your sweet tooth cravings, Oreo Cheesecake is a perfect choice. In this blog post, we'll provide several recipes for Oreo Cheesecake, so you can find the one that suits your tastes best.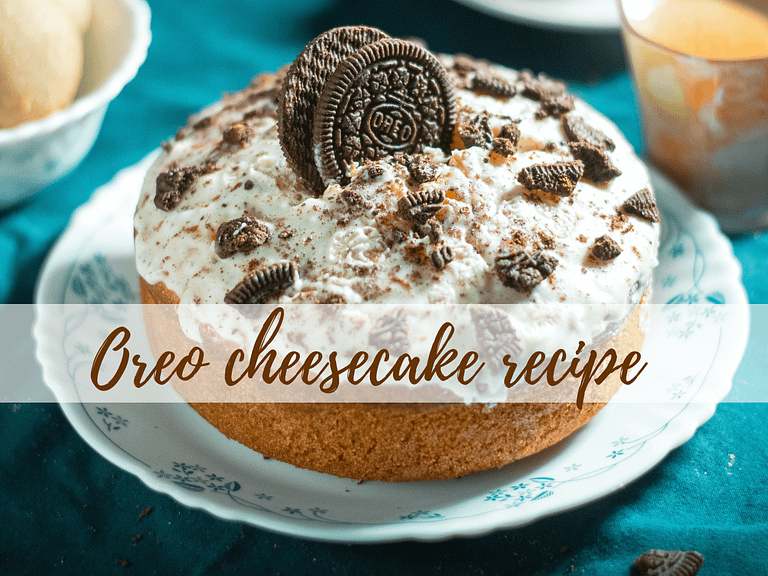 To get started, all you need are some Oreo cookies, cream cheese, sugar, vanilla extract, and heavy cream. This is a great dessert for entertaining or just when you want something special. So grab your ingredients and let's get started!
Ingredients of Oreo cheesecake :
Making Oreo cheesecake is surprisingly easy! All you need is a few basic ingredients and some patience. Here's what you'll need to get started:
-Add 2 cups of crushed Oreo cookies.
– 5 tablespoons of melted butter
– 16ounces of cream cheese, softened
– 1/2 cup of white sugar
– 2 teaspoons of vanilla extract
– 2 eggs
– 1/4 cup of heavy cream
– 8 ounces of semi-sweet chocolate chips
– 1/2 teaspoon of salt
– 1/2 cup of caramel sauce
– Whipped cream for garnish
You'll be prepared once you've acquired all of your ingredients. Get baking. Preheat your oven to 350°F (175°C) and let's get started on making the perfect Oreo cheesecake.
Process of Oreo cheesecake recipe:
Pre-heated oven:
Temperature oven to 350°F (175°C). Butter should be used to coat a 9-inch spring form pan.
Make the crust:
In a food processor, combine about 24 Oreo cookies, 1 tablespoon of granulated sugar, and 5 tablespoons of melted butter and pulse until the mixture looks like wet sand. The crumbs to the prepared pan and press them into an even layer on the bottom and sides. Transfer and bake for 8 minutes. Set aside to cool.
Make the filling:
In a large bowl, beat together 4 packages of cream cheese, 1 cup of sugar, 2 tablespoons of all-purpose flour, and a pinch of salt until smooth. Beat in 3 eggs, one at a time, followed by 2 teaspoons of vanilla extract.
Add the Oreos:
Crush another 16 Oreo cookies and stir them into the filling. Carefully pour the filling into the crust. Bake for 45 to 50 minutes, until they cool completely at room temperature before refrigerating for at least 4 hours or overnight.
Serve:
Top with whipped cream and more Oreos if desired and serve chilled. Enjoy!
Conclusion
Oreo Cheesecake is the perfect dessert for any occasion, from a casual summer BBQ to a formal dinner. It's easy to make, full of flavor, and sure to satisfy any sweet tooth. While it's always nice to have a scoop of cookies and cream ice cream in the summer, Oreo Cheesecake is a classic treat that never goes out of style. Whether you're making mini Oreo cheesecakes or a full-sized cake, you'll be sure to impress your guests. Enjoy!