Welcome to our blog! Today we will be talking about a special recipe of Sabu Dana Vada. This Recipe is a delicious and easy-to-make snack that you can enjoy with family and friends. It is made from Sabu Dana (tapioca pearls), potatoes, spices, and herbs. It is a popular Indian dish that can be enjoyed both as an appetizer and a main course. We will be sharing with you the ingredients, step-by-step instructions, and tips for making this special recipe of Sabudana Vada.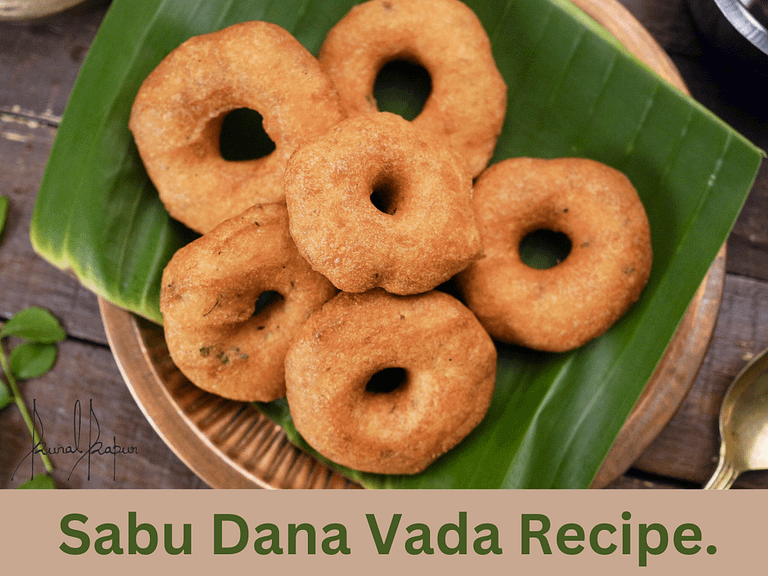 What is Sabudana Vada?
Sabudana Vada is a delicious and popular snack from India. It is made with Sabu Dana (also known as sago or tapioca pearls) and is traditionally served during the festival of Diwali. This a special Recipe can be enjoyed by people of all ages. The recipe is simple yet delectable, making it perfect for any occasion. The ingredients needed for this recipe are easily available in most Indian stores, or online. It's also a great vegetarian snack that can be enjoyed by all.
So if you're looking for a tasty snack that can be enjoyed by everyone, try this Recipe of Sabu Dana Vada today! You won't regret it.
Ingredients needed
If you are looking to make a special recipe of Sabudana Vada, then you will need the following ingredients:
• 2 cups Sabu Dana (soaked overnight)
• 2 potatoes, boiled and mashed
• 1⁄2 cup roasted peanuts, coarsely powdered
• 1 teaspoon jeera
• 1 teaspoon red chili powder
• 1 teaspoon garam masala powder
• Salt to taste
• 2 tablespoons chopped coriander leaves
• Oil for frying
• 2 tablespoons of finely chopped green chilies (optional)
Step-by-step process
Creating the perfect Sabu Dana Vada recipe is a bit of a labor of love. To begin, soak the Sabu Dana overnight in cold water. The ratio of Sabu Dana to water should be 1:2.
In the morning, drain any excess water and set the soaked Sabu Dana aside.
Next, mash up a boiled potato with a pinch of salt and turmeric powder. To this mixture, add green chilies, peanuts, cumin seeds, and curry leaves.
Mix the mashed potato with the soaked Sabu Dana, making sure it is thoroughly combined. Then, take a handful of the mixture and shape it into balls. Heat oil in a deep frying pan and carefully drop in the vadas.
Fry the vadas on medium heat until they are golden brown. Serve them hot with either chutney or ketchup. Enjoy your special Recipe of Sabu Dana Vada!
Conclusion
The Sabu Dana Vada is a special recipe that is popular in India. It is easy to make a dish that can be served as a snack or as part of a meal. The ingredients used are simple and accessible, making it a great recipe to try at home. While the traditional recipe calls for deep frying the Vada, there are healthier variations that can be tried such as baking or shallow frying. Whether you're a beginner or a seasoned cook, this recipe of Sabu Dana Vada is sure to please your guests and family.
If you're looking for a seafood-based alternative to sabudana vada, try our Indian Shrimp Recipe. With a similar blend of spices and bold flavors, it's sure to satisfy your craving for something delicious and unique.