Are you looking for a delicious stuffed cookie recipe? Look no further! This recipe for the best stuffed cookie will give you the tastiest cookies you've ever made. This cookie recipe is easy to follow and yields the perfect combination of soft cookie and creamy filling. Whether you're baking for a special occasion or just want to treat yourself, this recipe is sure to please. Keep reading to learn how to make this amazing snack.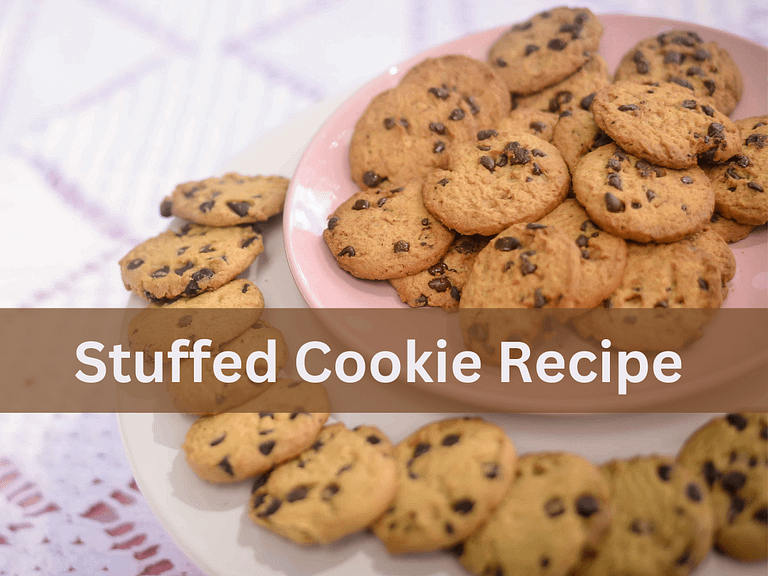 Ingredients
For the cookie dough:
– 2 1⁄2 cups all-purpose flour
– 1 teaspoon baking soda
– 1 teaspoon salt
– 1 cup (2 sticks) of room temperature unsalted butter
– 3⁄4 cup granulated sugar
– 3⁄4 cup packed light brown sugar
– 2 large eggs
– 2 teaspoons pure vanilla extract
For the filling:
– 1 cup semi-sweet chocolate chips
– 1 cup chopped walnuts
– 1⁄2 cup sweetened condensed milk
– 1 teaspoon vanilla extract
For the topping:
– 1 tablespoon white granulated sugar
– 1 tablespoon coarsely chopped walnuts
This recipe for the best-stuffed cookie will be sure to have your family and friends coming back for more! With a delicious combination of chocolate chips, walnuts, and sweetened condensed milk, this cookie is sure to be a hit. Follow the directions below to make the perfect best-stuffed cookie. Enjoy!
Instructions
1. Preheat oven to 350°F (175°C). Use cooking spray or butter to grease a baking pan.
2. In a large bowl, cream together 1 cup (200 grams) of butter, 1/2 cup (100 grams) of white sugar, 1/2 cup (100 grams) of brown sugar and 1 teaspoon of vanilla extract until light and fluffy.
3. Beat in 2 eggs until the mixture is smooth.
4. In a separate bowl, sift together 2 1/4 cups (280 grams) of all-purpose flour, 1 teaspoon of baking soda, and 1/4 teaspoon of salt.
5. Stirring gently to incorporate, gradually add the dry ingredients to the wet components.
6. Divide the cookie dough into two equal portions and place each portion on a piece of parchment paper. Roll each portion of dough into a log about 8 inches (20 cm) long.
7. Cut each log into 16 slices, and then spread the slices out on the prepared baking sheet.
8. In a medium bowl, mix 1/2 cup (125 grams) of softened cream cheese, 1/4 cup (50 grams) of white sugar, and 1 egg until smooth.
9. Place a teaspoon of the cream cheese mixture on the center of each cookie slice and fold the edges up over it, pressing them together to form a ball.
10. Bake for 12 minutes, or until lightly golden brown. Before serving, let the cookies totally cool. Enjoy!
Notes
This Recipe of Best Stuffed Cookie is the perfect dessert to serve to family and friends. It's not just wonderfully tasty; it's also quite simple to make. For the best results, use high-quality ingredients such as real butter and pure vanilla extract. Additionally, for an extra layer of flavor, consider adding a splash of milk or cream to the cookie dough. Make sure to chill the cookie dough for at least 30 minutes before baking for a more flavorful and moist cookie. Finally, when baking these cookies, make sure not to over-bake them as this can cause them to be dry. Enjoy your delicious Best Stuffed Cookie Recipe!