Are you looking for vegan alternatives to your favourite comfort foods in this chilly season? Spaghetti squash could be the one you're looking for – and you'd be surprised by how many different ways you can prepare it! You can also try these delicious low carb meals if you are looking for some more healthy options.
Spaghetti squash is a low-carb, high-fibre vegetable that's often used as a substitute for pasta. Rich in vitamins A and C, potassium, and calcium, it is actually a type of squash with a slightly curved shape and an inner Tahini-coloured flesh that looks like strands of spaghetti. When it comes to spaghetti squash recipes, there are a lot of options out there. That's because spaghetti squash is one of the most versatile vegetables you can find.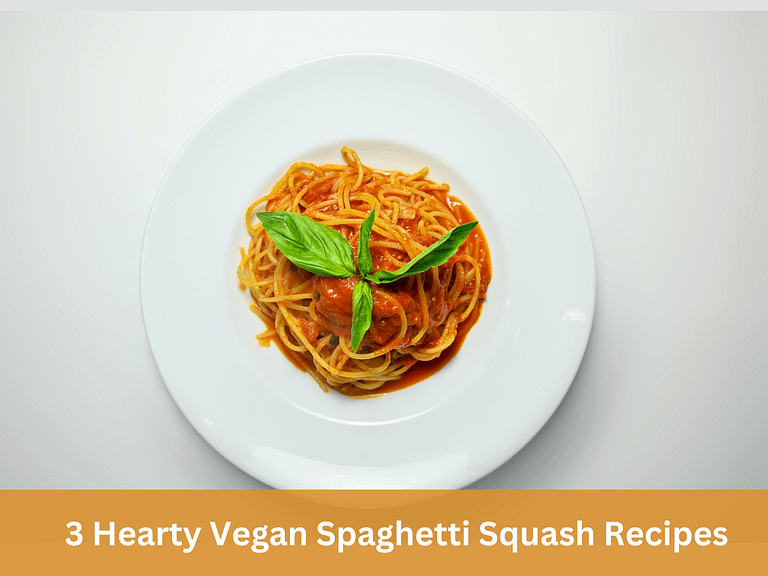 Try the amazingly indulgent vegan spaghetti squash recipes below and you might find your new favorite!
#1: Thai-Stuffed Spaghetti Squash Bowl
You can never go wrong with Southeast Asian flavors! A Thai-stuffed spaghetti squash incorporates the heavenly flavors of Thailand with the ease and comfort of cooking the squash. It is simple, hassle-free, and extremely decadent.
The recipe calls for roasting the squash in an oven for about 45 minutes and a cup of broccoli florets for about 20 minutes, at 375° F. Rake the tender pulp of your spaghetti squash after letting it cool down slightly, add broccoli roasted with garlic and olive oil, and sprinkle a generous amount of the classic Thai peanut butter sauce. Top it off with fried garlic slices, chopped toasted peanuts, scallions or chives, and a dash of hot sauce!
Ingredients for 2 servings
The base:
1 small spaghetti squash
1 cup broccoli florets
1-2 tsp. olive oil
1 garlic clove
Salt and pepper to taste
The sauce:
⅓ cup creamy peanut butter
1 tbsp. soy sauce
1 tbsp. honey
1 tbsp. lime juice
1-2 tbsp. water (to thin the sauce, if needed)
The toppings:
Thinly cut garlic slices fried in olive or sesame oil
Chopped scallions or fresh chives
Roughly chopped toasted peanuts
Hot sauce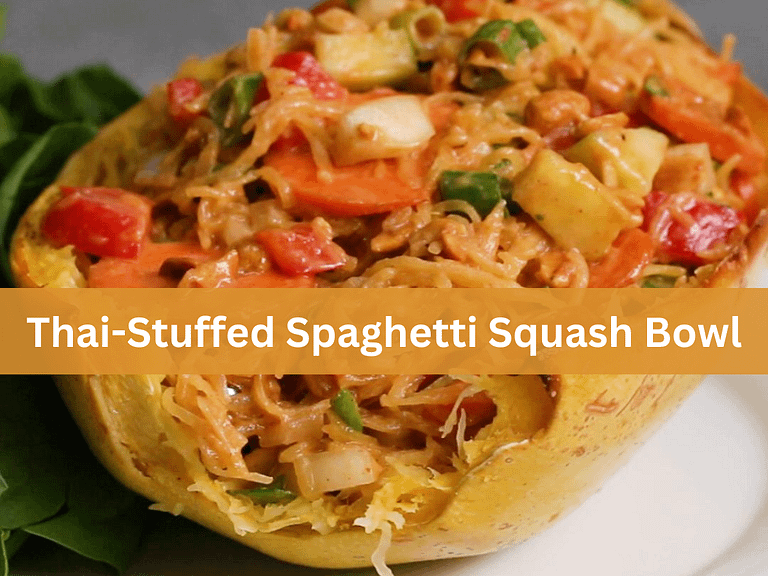 #2: Spaghetti Squash with Vegan Alfredo Sauce
An alfredo sauce may not seem like the ideal food choice in a vegan lifestyle, but wait until you try this vegan alfredo sauce on a beautifully roasted spaghetti squash – you'll keep wanting for more! This dish is creamy and indulgent, but also vegan and diet-friendly.
Here's what you need to do for the perfect spaghetti squash with vegan alfredo sauce:
Soak two cups of cashews overnight or let them sit in hot water for about an hour. Blend the softened cashews with 3-4 large cloves of garlic, sea salt, 2 tablespoons of nutritional yeast, and a splash of water in a high-speed blender until you get a creamy sauce. Cut your squash in half, remove the seeds, and roast it for about 40-45 minutes in the oven at 375° F. After it is cooked, gently pull the pulp with a fork to get a noodle-like texture. Transfer the pulp to a pan and caramelise it on the stove for a few minutes before adding your vegan alfredo sauce, salt and pepper, Italian herbs, and vegan parmesan cheese. Finish it with fresh basil leaves and viola! You have a guilty-free delicious pasta with all the right flavours!
Ingredients for 2 servings
The base:
1 small spaghetti squash
Salt and pepper
The sauce:
2 cups cashews
3-4 garlic cloves
2 tbsp. nutritional yeast
Sea salt
The toppings:
Italian herbs
2 tbsp. vegan parmesan cheese
Basil leaves
#3: Mediterranean Spaghetti Squash Bowl
Looking for a quick, easy, and utterly flavourful vegan spaghetti squash recipe? This Mediterranean spaghetti squash bowl checks all the boxes! Its intense flavours will become a family favourite easily.
It's fairly easy to put this recipe together – all you need is your roasted veggie, a chickpea salad, and pesto sauce. You can roast the squash in the oven at 375° F for approximately 45 minutes, or put it in the microwave for 5 minutes. For the chickpea salad, combine the chickpeas with a finely diced onion, bell pepper, black olives, minced garlic, lemon juice, salt to taste, freshly cracked black pepper, and roughly chopped parsley. Blend a few handfuls of basil leaves, pine nuts, garlic cloves, nutritional yeast, and olive oil in a blender on medium speed for 3-4 minutes to get your creamy pesto sauce. Top your roasted spaghetti squash with the fresh chickpea salad and pesto sauce for an explosion of mediterranean flavours in your mouth!
Ingredients for 2 servings
The base:
1 small spaghetti squash
The chickpea salad
400 grams cooked chickpeas
1 cup bell peppers
1 cup red onion
¼ cup black olives
4-5 garlic cloves
2 tbsp. lime juice
⅓ cup parsley
Salt and pepper
The sauce:
2 cups basil leaves
¼ cup pine nuts
3-4 garlic cloves
2 tbsp. nutritional yeast
¾ cup extra virgin olive oil
This winter, try something different with a vegan spaghetti squash recipe. You will find most of the ingredients for these recipes in your pantry and you can put together these flavourful meals quicker than you think.
Satisfy your cravings with a hearty spaghetti squash meal!